The New BMS 205 Bass Management System by Sonodyne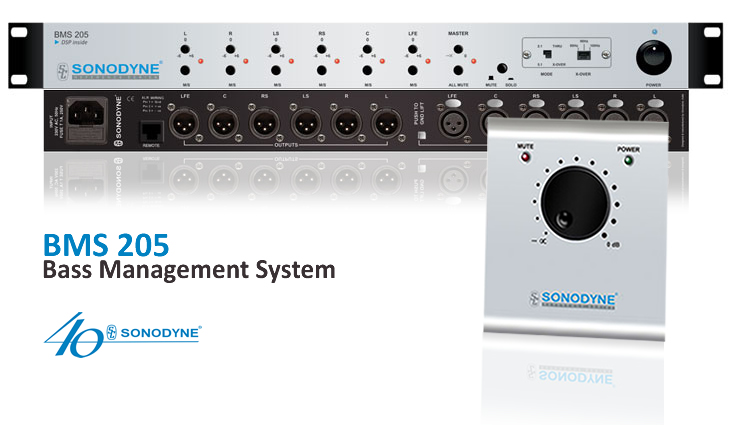 What is the Sonodyne BMS 205
The Sonodyne BMS 205 is a unique bass management system which is the perfect 2.1 and 5.1 solution for recording studios, post-production and broadcast. At a slim 1U, it houses an innovative feature to setup the SMs and SLF in 2.1 or 5.1 modes.
The BMS 205 allows you to activate one of 3 HPF for the main channels or play them in full range mode. In 2.1 mode the LFE signal can be derived from a summed L, R. Another exciting feature is the mute / solo option that allows you to mute or solo individual channels.
The BMS 205 is also supplied with the stunning new wired remote control (BMS 205r) that sits neatly on your desktop and allows you to control master level and mute.
Shipping soon
Sonodyne BMS 205 Specifications
Input Connections
6 x XLR F (lockable)
Output Connections
6 x XLR M
Input Signal-Sensitivity
5.1 mode - (0dB) max.
2.1 mode - (0dB) max.
Output Signal Level
5.1 mode - (0dB) max.
2.1 mode - (0dB) max.
Freq. Response
Through mode - 20Hz~20kHz (-3dB)
X-over mode - 80-90-100Hz (LPF & HPF)
THD
< 0.05%
S/N Ratio
> 90 dB
Crosstalk
> 70 dB
DIM. (H x W x D)
44 x 482 x 165 mm
Net Weight
2.75 Kg
Power Input
Mains: 230V/50-60Hz or 115V/60Hz
Power Source
230V AC, 50Hz; 115V optional